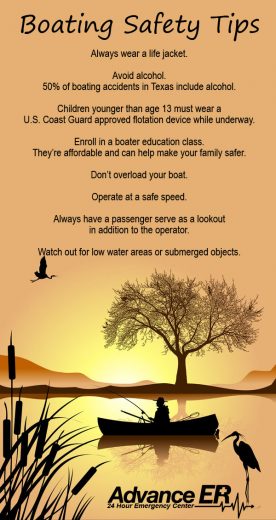 Dallas County is home to five lakes and there are many others in close proximity to the Dallas-Fort Worth area.  Dallas families love their time on the water.
In 2013, there were more than 580,000 registered boats in Texas, ranking it 6th in the country.  Let's be honest, there are few things quite as enjoyable as a stroll across White Rock Lake at sunset in a boat, the cool breeze in your face and the water shining at sunset.
As much as we enjoy boating, real dangers are involved with water recreational vehicles. There were 522 accidents that resulted in damage to property, injury or fatalities in 2013 according to the Texas Parks & Wildlife Department.
To help keep your family and loved ones safe, always practice these boating safety quick tips:
Always wear a life jacket. Nearly 85% of boating drowning victims were not wearing a life jacket.
Avoid alcohol.  50% of boating accidents in Texas involve alcohol.
Be especially careful on personal watercraft.
Children younger than age 13 must wear a U.S. Coast Guard-approved Personal Flotation Device (PFD) while underway.
Enroll in a boating education class. They're affordable and can help make your family safer.
Don't overload your boat.
Operate at a safe speed.
Always have a passenger serve as a lookout in addition to the operator.
Watch out for low water areas or submerged objects.
Unfortunately, the most common boating citation is not having enough life jackets on board the boat and children younger than 13 not wearing a life jacket at all times. Remember that in Texas:
Children under 13 years of age in or on vessels under 26 feet must wear a U.S. Coast Guard-approved PFD while underway.
All vessels under 16 feet (including canoes and kayaks) must be equipped with a PFD for each person on board.
Vessels 16 feet and longer, in addition to a life jacket for each person, must have a throwable flotation device readily accessible in their vessel.
By being cautious and following guidelines for boating safety, Dallas families can ensure their time on the lake remains fun and safe.