The Differences Between Urgent Care & an Emergency Room
When to go to Urgent Care, the Emergency Room or Advance ER
Do I have an urgent problem or an emergency medical issue?
The difference is that of urgency. The primary distinctions between an urgent care facility and an emergency room is that urgent cares are generally not equipped to handle life-threatening illnesses or injuries. Unfortunately, many patients seek out urgent care when they actually have an emergency requiring immediate medical attention.
If you can't wait to see a primary care doctor and must be seen immediately, then your condition is very possibly considered a medical emergency, and according to Texas law, all insurance companies must cover medical emergencies at in-network rates.
Examples of a medical emergency where you should go to an emergency room, not an urgent care center, include:
Chest pain
Shortness of breath
Bleeding
Headaches
Abdominal pain
Dizziness
Vomiting
Fainting
Stroke symptoms
Cardiac issues
Lacerations
Broken bones
Fever
Head injury
Neck and back pain
Motor vehicle accident injuries
Heat exhaustion
Why is an emergency room a better choice for life-threatening medical issues?
These above-mentioned medical concerns are issues best seen in an emergency room, where on-site laboratories, diagnostic imaging tests, and our board-certified doctors are available to care for you.
Should you have a medical issue after-hours, Advance ER is your best option.
What are the benefits of your emergency rooms at Advance ER?
We are open 24/7.
We are a standalone emergency room that is physically separate from a hospital, located in a neighborhood community.
Our standalone emergency rooms are staffed by board-certified ER physicians, physician's assistants and certified nurse practitioners.
You are subject to the same co-pay as a hospital ER.
Over 20 years of experience.
What Makes Advance ER Different From a Hospital ER or Urgent Care?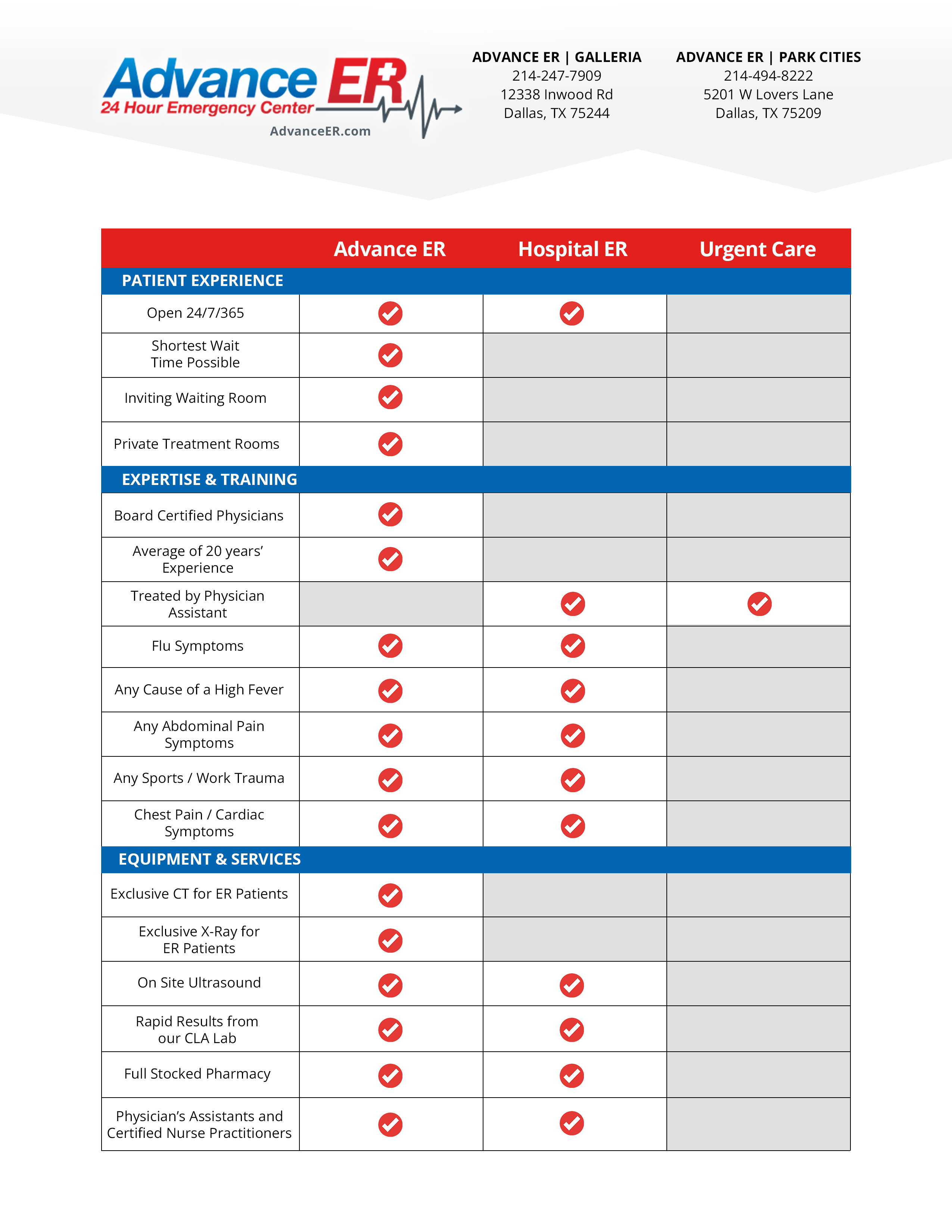 Contact an Emergency Room Doctor 24/7
Advance ER is one of the only facilities in Dallas where you can reach a doctor 24/7 in just a few minutes to ask your medical questions.

At Advance ER, we have board-certified doctors, highly trained radiology technicians, lab personnel, and ER trained registered nurses. There is no wait time, and we're open 24/7. We have an on-site lab, pharmacy, diagnostic imaging tests, and virtual specialists. These are just some of the things that differentiate us from the rest.
Exceptional Care, Exceptionally Fast is What Makes Advance ER Different.
We serve Galleria Area, Park Cities and the surrounding North Dallas neighborhoods with 24-hour emergency room services. You can call our staff to discuss your symptoms any time.
If you're looking for the highest level of care in your Dallas neighborhood, turn to Advance ER. We understand there are important differences between a 24-hour emergency clinic Dallas and a 24-hour urgent care Dallas. Choose Advance ER for your emergency care.
If you believe you are experiencing a medical emergency, seek immediate care. If you are unsure whether you have an urgent or emergency medical problem, call our standalone emergency room at (214) 494-8222.
Related Blog Posts: